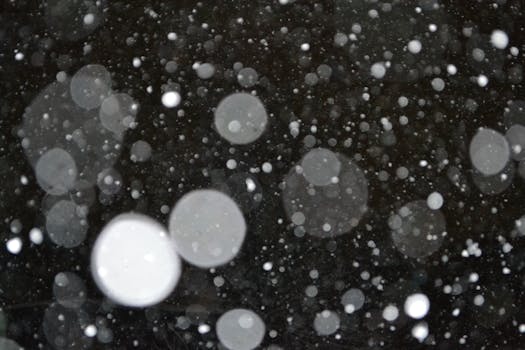 The streetlamps' orange glow reflected off the slowly falling snow, making the flakes shine like fairy lights. Then a gentle wind twisted the flakes away and they fell to the all ready white carpeted ground.
From her bedroom window, Charity watched and wished she could go out to play. However, the clock stated it was two am, well passed her bedtime. She sighed and watched the glass mist up under her nose. She pressed a finger to the mist patch, going to draw a C for her name when an idea came into her head.
Grabbing her desk chair, she put it against the window sill and climbed on top of it. With a lot of effort, she opened the top window. A blow of freezing air drifted into the room and around her. Ignoring it, she stretched her small hand out of the window.
A snowflake landed in her palm. She giggled at the coldness and watched it melting. Reaching out as far as she could, Charity felt more snow landing against her skin. She twirled her hand in it, feeling the softness of the flakes then the wetness as they melted.
Drawing back a frozen hand, Charity watched the snow falling thicker and faster. The streetlamps were the only lights on in the street, but they now could not penetrate through the white flurry. Darkness crept back in, making the snowflakes lose their magic and turn eerie looking.
The wind picked up, gusting the snow around and through Charity's window. Gasping, she reached up to close it, but felt the wind tugging the latch away from her. Charity yanked the window close, but lost her balance on the chair at the same time and tumbled to the floor.
Landing hard, Charity tried not to cry out. She bite back tears and caught her breath. Slowly getting up, she rightened the chair and peered out of the window again. Snow was hitting her window hard and she could no longer see passed it. The winter storm that the news had warned of earlier and her parents had tutted over, had finally arrived.
Wiping her face, she put the chair back under the desk. Then going to the window again, she half drew the curtains. A few minutes ago, she had hardly heard anything, but now Charity could hear the wind howling and the snow hitting everything. Shivering, she went back to bed and hugged her favourite bear tightly.
(Prompt from; https://dailypost.wordpress.com/prompts/shine/)