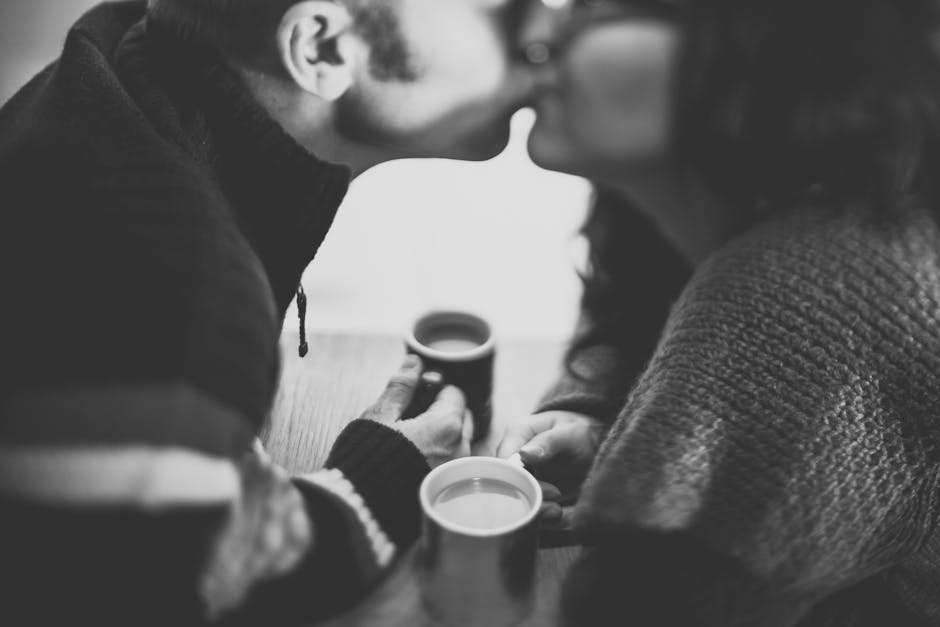 I don't know how it happened really. The coffee shop was busy again, just like it had been on Friday and there was no where else to sit but next to him!
She sat down next to me, muttering, 'excuse me,' and clutching her bag and coffee mug. I shuffled to the side, trying hard not to look at her. I had admired her from a far for so long and now she was next to me!
'I'm sorry,' I said, 'It's busy here today.'
'Yes, it is. Must be the weather,' he responded.
I nodded and tried to keep my eyes off him. But they kept wondering back towards his dark hair and nicely shaped chin.
She was looking at me and I was trying so hard to avoid her. However, our eyes finally met. She smiled, a small one at first then she tucked a strand of red hair behind her ear and smiled wider.
'I like your hair. It's really red,' I spoke.
'It's natural,' she responded, 'I like your hair too.'
Then she giggled and settled back on the plush sofa. She picked up her coffee, but it must have been too hot because she placed it down again.
He was watching me and I was trying to be all casual, but I could feel it wasn't working. I wanted to say something, act all chatting and hide my crush for him. The words didn't want to form but as the silence stretched I knew I had to say something.
'Terrible weather,' I said.
'It really is. I think the news said it was a storm. It's meant to snow later,' he replied.
'Yes, I saw that too. I really hope it doesn't snow!' I cried.
'Why?' he asked.
I thought a moment before answering, 'I don't mind it, I just don't like being in it. I guess that's how most people feel. What about you?'
He shrugged, 'I don't mind it either way.'
She looked away, out at the steaming up windows and the rain dripping down. I looked down at my phone and began flicking through things, not really interested in anything. I wanted to ask her questions, but I couldn't do it. Maybe more small talk would help? But I didn't know what else to say.
The silence grew again. She noticed it and started talking again.
'You know, I've seen you before.'
'In here?' I asked.
She nodded, 'I've been trying to figure you out. But I guess you must really like the coffee here or something.'
She laughed and her cheeks flushed. She was embarrassed. She turned away, looking at the people, the windows, the art on the walls, anything other then me.
'Actually….' I began and trailed.
He spoke and I turned back to him, fussing with my hair and scolding myself for saying something stupid. He didn't seem to have noticed though. He was looking thoughtful now and picking over his words.
'The coffee is rather good here,' he announced.
I nodded and picked my mug up. I was having a hot chocolate today and it was still too warm to drink.
'But there is another reason…' he said, 'you.'
I frowned and looked at him, not sure I'd heard him right.
'Me?' I questioned.
'Yes. Do you think sometime, if you are free, you'd like to go on a date with me?' he asked, shyly.
I smiled and nodded, 'yes, I'd really like that.'